Kawartha Lakes Mums Asks: Can You Help This Veterans Advocate?
Kawartha Lakes Mums follows the Canadian Veteran Advocacy Facebook page, and we noticed this request for opinions on Addictions and Veterans.
FTC Disclosure: Kawartha Lakes Mums welcomes family friendly advertising including affiliate links that meet our editorial guidelines. This helps us put food on our table at no additional cost to our readers.
The Canadian Veterans Advocate is preparing for a national interview on the topic of Veterans and addictions, and is looking for people to send them a confidential email about their personal experiences as a veteran or a family member of a veteran.
Here is the post reprinted for those who do not use Facebook.
Canadian Veterans Advocacy Seeks Opinions on Addictions
Canadian Veterans Advocay
As an advocate, I have experienced working with veterans and spouses who are suffering through the cycle of despair and have consequently become addicted in one form or another. Booze, Drugs and for our purposes today,
I have spoken to some veterans who have spent, while consumed by the cycle of despair, significant monies before either hitting rock bottom or recognizing the a boring impact this addiction was having on their quality of life's. Often, it is the spouse that intervenes, she is very concerned, angry and confused that their loved one would fritter away so much money in this fashion.
Have you suffered the adverse consequences of gambling addiction through an electronic forum? Has your family been impacted by the loss of resources, monies that would have been dedicated to their well-being? If so, please send me an email through the Canadian veterans advocacy website, no names no pack rail, I am in consultation mode for a looming national interview.
What other links could you share that would be helpful for veterans?
Related Links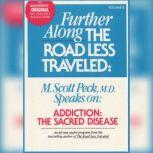 Further Along the Road Less Traveled:
Addiction, the Sacred Disease - Audio Book Download - $3.98
Retail Price: $7.95
You Save: $3.97
Any adfly links below will open with a word from a sponsor to help cover expenses. Click the "Skip Ad" Button when it appears in the top-right corner to proceed to the webpage.
Find out more at :
http://adf.ly/?id=4009826
Want a direct link to your site? Leave a confidential comment and ask about a free link exchange or sponsoring a post.
Drop us a comment, or connect with us in one of these ways. We love chatting with our readers!:
Thanks for Reading Kawartha Lakes Mums!
Be sure to
Subscribe to Kawartha Lakes Mums
you never know what we'll be blogging next!