Lindsay Residents Getting Free Rides - All Aboard!
Lindsay Transit is offering free rides for the holidays. Will this be a blessing for you?
FTC Disclosure: Kawartha Lakes Mums welcomes family friendly advertising including affiliate links that meet our editorial guidelines. This helps us put food on our table at no additional cost to our readers.
Read the press release from City of Kawartha Lakes below for more details.
LINDSAY – Lindsay Transit is getting into the Christmas spirit early this year offering free rides from Monday, December 7 to Saturday, December 19.
Lindsay Transit Offers Free Rides for the Holidays!
Transit Supervisor Enzo Ingribelli explained the logic behind offering the free rides during the period before Christmas.
"This is a great way to say thank you to our transit users and to encourage residents to begin using the transit service," explained Transit Supervisor Enzo Ingribelli.
Mr. Ingribelli noted that ridership typically declines during the week of Christmas, so offering free transit while more people are doing their holiday shopping, visiting friends and attending to appointments resonates more with the area residents.
"We want to help area residents get where they need to go using the Lindsay Transit system," said Mr. Ingribelli. "During this free two week period we are able to gather important information about ridership numbers, time of use and highest volume routes and stops."
The data collected helps Lindsay Transit staff plan appropriate resources for the service.
"It's a win-win," said Mr. Ingribelli. "We get to say Thank You to our riders and welcome those that may be new to the transit service and we get valuable feedback and information that helps better inform our service decisions moving forward."
Related Links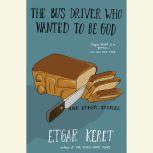 The Bus Driver Who Wanted To Be God & Other Stories: Warped & Wonderful Short Stories - Audio Book Download
What do think about the annual free rides for Lindsay transit customers?
Drop us a comment, or connect with us in one of these ways. We love chatting with our readers!:
Thanks for Reading Kawartha Lakes Mums!
Be sure to
Subscribe to Kawartha Lakes Mums
you never know what we'll be blogging next!